RE-think our potential.
What can we communicate through the food from Awaji Island?
"reflection" is to introspect and contemplate.

People who have been deeply involved in food creation, they can still use their time and experience as food for thought. Another new step will be envisioned even if they are stopped in their tracks, cut off from the freedom of movement.
"reflection" like in a mirror.

People who live brightly in the world of food, no matter what kind of times we are living in, face reality straight on. They will shine a ray of light back at us.
Reflection is an echo.

The people who have met in the world of food pass the baton of gratitude and inspiration to each other; echoing each other's values and nurturing connections.
food × reflection
Looking at food from Awaji Island. What possibilities can we offer now? Beyond this wide, open sky. We will continue to share the joy of food.
food × reflection #01
2021.9.7finished
Session01
Food ✕ Philosophy
×
2021.9.8finished
Session02
Food ✕ Local✕ City
×
2021.9.11finished
Session03
Food ✕ Forest
→
2021.10.29finished
Dining #01
food × reflection
Since 2020, society has been required to undergo major changes due to Covid-19.
Our previous everyday life needs to be reconsidered to fit into our new normal.

Food culture, in particular, has been greatly influenced.
However, there are also positive new customs and services that have started.
"food×reflection" is the project with an eye on the near future about food culture from Awaji Island that has been greatly influenced by Covid-19.
The members involved in the project are looking at food from a variety of perspectives.
Looking back on the past, reflecting on the present, and proposing "new food".
We are in the process of answering some of these questions.
Just as the surface of the sea changes from moment to moment, constantly reflecting light.
This is a field where we can continue to explore and shine.
Dining #01
Based on the talk sessions "Session01-03" held in September,
reflection members proposed dishes, ceramics, and services.
On October 29th, we will release a movie of the proposition,
along with a live broadcast by the core members and the opening of our online store.
ONLINE LAST TALK
&
ONLINE SHOP
「Dining #01」絶賛準備中!
2021.09.12
キックオフミーティング(ダイジェスト版)
2021.09.12
キックオフミーティング(フル版)
2021.09.17
会場のしつらえミーティング①
家具zombi 石川 靖大
2021.09.18
会場のしつらえミーティング②
NeKi 額縁と珈琲 加藤 康弘
Session01

Food × Philosophy
Takashi Kurata
Born in 1970 in Hyogo Prefecture, Japan, Takashi Kurata is a philosopher and associate professor at the Faculty of Science and Technology, Meiji University. 1994 Graduated from the Department of Philosophy, Faculty of Letters, Kyoto University. 2001 Completed the doctoral program at the Graduate School of Human and Environmental Studies, Kyoto University. D. in Human and Environmental Studies. He specializes in philosophy and environmental humanities. He teaches courses in College of Science and Technology General Culture Courses and Graduate School of Science and Engineering, and Architecture and Department of Urban Studies Comprehensive Arts. In recent years, from the perspective of local standards and intimacy, he has been questioning the state of thought in contemporary society, using various genres such as craft, architecture, design, agriculture, and folk customs as clues.
Session02

Food × Region × City
Sashide Kazumasa
Kazumasa Sashide is the editor-in-chief of "Sotokoto", and was born in Gunma Prefecture in 1969. He graduated from Sophia University with a degree in International Relations Law. After working in the editorial department of "Outdoor" magazine and as editor-in-chief of "Rod and Reel" magazine, he was appointed to his current position. He is currently also General supervisor of "Like a Bird OKITAMA" at the Yamagata Arcadia Tourism Bureau, school director of "Kooriyama Town School" in Koriyama City, Fukushima Prefecture, supervisor of "Toyama Tsunagaru Laboratory" in Toyama Prefecture, planning supervisor of "Let's meet at Oku-Yamato" in Nara Prefecture, planning supervisor of the "Let's Meet in Okuyamato" project in Nara Prefecture, and creator of the "Japan Pavilion at the 2025 Osaka-Kansai World Expo" for the Ministry of Economy, Trade and Industry.
Session03

Food × Forest
Yutaka Miura
Yutaka Miura was born in 1977 in Kyoto. He is a special lecturer at Kyoto University of Arts. After studying architectural design at Nihon University College of Art, he became a gardener in Kyoto. Since 2004, he traveled around Japan, Australia and New Zealand for about five years, and in 2010, he began to work as a forest guide, guiding people around Japan to places of interest, including forests and gardens. In 2020, he started an online salon called "Mori no Salon" with his friends every Thursday. "I love not only forests, but also cities."
member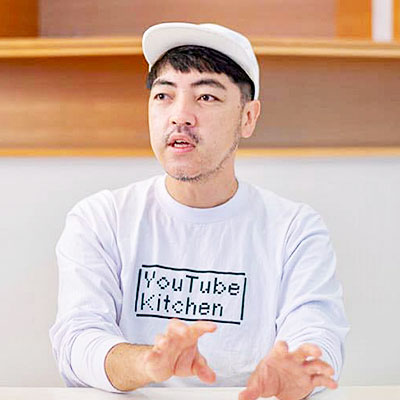 Culinary pioneer
Yusuke Hotta
With the motto "To eat is to live, to live is to be alive," Yusuke Hotta is a culinary pioneer who serves as a bridge between cities and regions, connecting producers and consumers. Through the "EATBEAT!" live performance event of food and sound, he is active in enjoying the essence of eating. In 2018, he launched the "grow rice project" to promote domestic rice in earnest. Since the Corona pandemic, he has been distributing recipes and food videos on his YouTube-channel "Yusuke Hotta YouTube kitchen".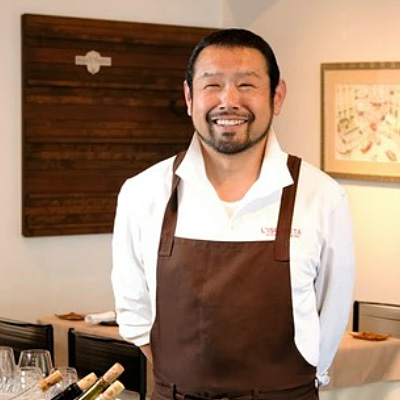 Owner Chef, L'ISOLETTA
Yukinori Itsubo
Yukinori Itsubo was born on Awaji Island. After graduating from high school, he worked at "Pasta Kabe no Ana" and "Italian Restaurant Colosseo" before moving to Italy in 1993 where he trained at a two Michelin star restaurant. After returning to Japan, he worked as a chef in hotels and restaurants, and in 2000, he opened L'ISOLETTA in his hometown of Awaji Island. Soon after opening L'ISOLETTA, he was selected as one of the top 100 famous chefs in Japan by the Japan Food Journal, and opened BarViaCosta in 2021.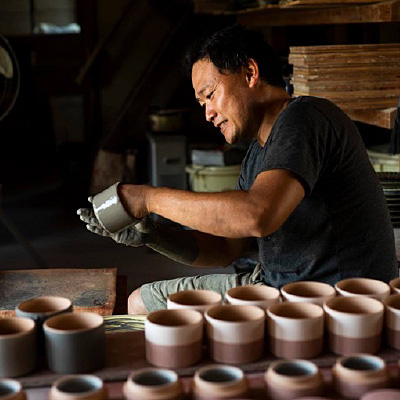 Pottery Artist Rakutogama
Masaaki Nishimura
Born in Kobe, Japan, Masaaki Nishimura studied under Tanba-yaki potter Toshihiko Shimizu in 1999, and learned about folk art pottery. Since then, he has held solo exhibitions all over Japan, but since 2010, he has taken a break from exhibitions to work on his pottery. He has been experiencing the scenery beyond the pottery, which he sees through his own exploration of life in rice fields and beekeeping. In 2021, he will start his own YouTube channel, "Kurashi no Doki" (The Thrill of Living), where he will share the challenges of his family's daily life.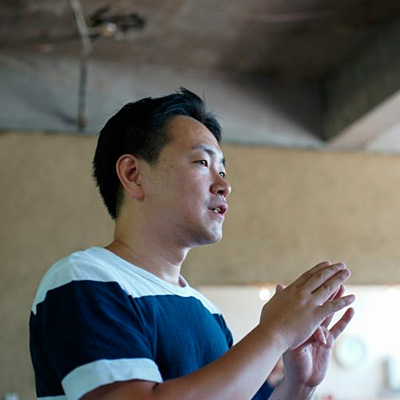 Planning and management (Shimatoworks Co., Ltd.)
Yusuke Tomita
Yusuke Tomita was born in Kobe City in 1981. After graduating from university, he worked as a freelance designer for two years in Kobe and Awaji Island. In 2006 he moved to Tokyo and joined Nikken Housing System. In 2012 he moved to Awaji Island and established and operated "Awaji Hataraku Katachi Kenkyu-shima". In 2014 he established Shimato Works, a planning and proposal company with the motto "Create an exciting tomorrow from this island". In 2019, the company name was changed to Shimato Works Co. based on the island, Shimatoworks offers a wide range of planning and proposal services to individuals, organizations, governments, and companies in any region or field.